5 Quick, Seasonal Recipes for Winter 2023!
Winter fruits & veggies are some of our favourite seasonal produce - earthy, versatile, and often really affordable! Our team is loving these 5 nourishing recipes using in-season vegetables and we know you'll love them, too!
Recipe #1: Roast Pumpkin, Caramelized Onion and Walnut Pizza.
by To Her Core - Healthy living, from the inside out

Ingredients:
Roast Pumpkin
800g pumpkin, skin and seeds removed
Olive oil
Salt
Caramelised onions
3 large brown onions
1 Tbsp olive oil
1 tsp brown sugar
Red wine
For the pizza
Preheat oven to 230 degrees Celsius (450 degrees Fahrenheit).
Pizza dough (see here or here to make your own)
Tomato sauce 
Roast Pumpkin
Caramelized onion
A few handfuls baby spinach
150g shredded mozzarella cheese
75g crumbled feta
1/2 cup walnuts, roughly chopped
Fresh oregano or basil to serve
How to make:
To roast the pumpkin, preheat oven to 200 degrees Celsius (390 degrees Farenheit). Chop the pumpkin into bite-sized pieced and place on a lined baking tray. Spray with olive oil and season with salt and pepper. Bake for around forty minutes, turning half way through.

To caramelise the onion, peel and halve the onions and then thinly slice. Heat the olive oil over medium to low heat. Add the onions and stir to coat. Reduce to a low heat and cook, stirring, 5 minutes. Add the sugar and stir to combine, continue to cook stirring occasionally for another 5 minutes. Add a few glugs (around 2-3 Tbsps) of red wine. Stir, and continue to cook for another 15 to 20 minutes, stirring occasionally, until the onions have are cooked through and caramelised.
Spread pizza dough out on a large lined baking tray. Add a few spoonfuls of sauce and use the back of the spoon to even out over the dough. cover lightly with the spinach, then add the onions, pumpkin, walnuts and lastly the cheeses. Bake for 10 – 15 minutes, checking after 10.
Sprinkle with fresh oregano or basil before serving and Enjoy!


Recipe #2: Sweet Potato & Apples Breakfast Bowl
by Food Banjo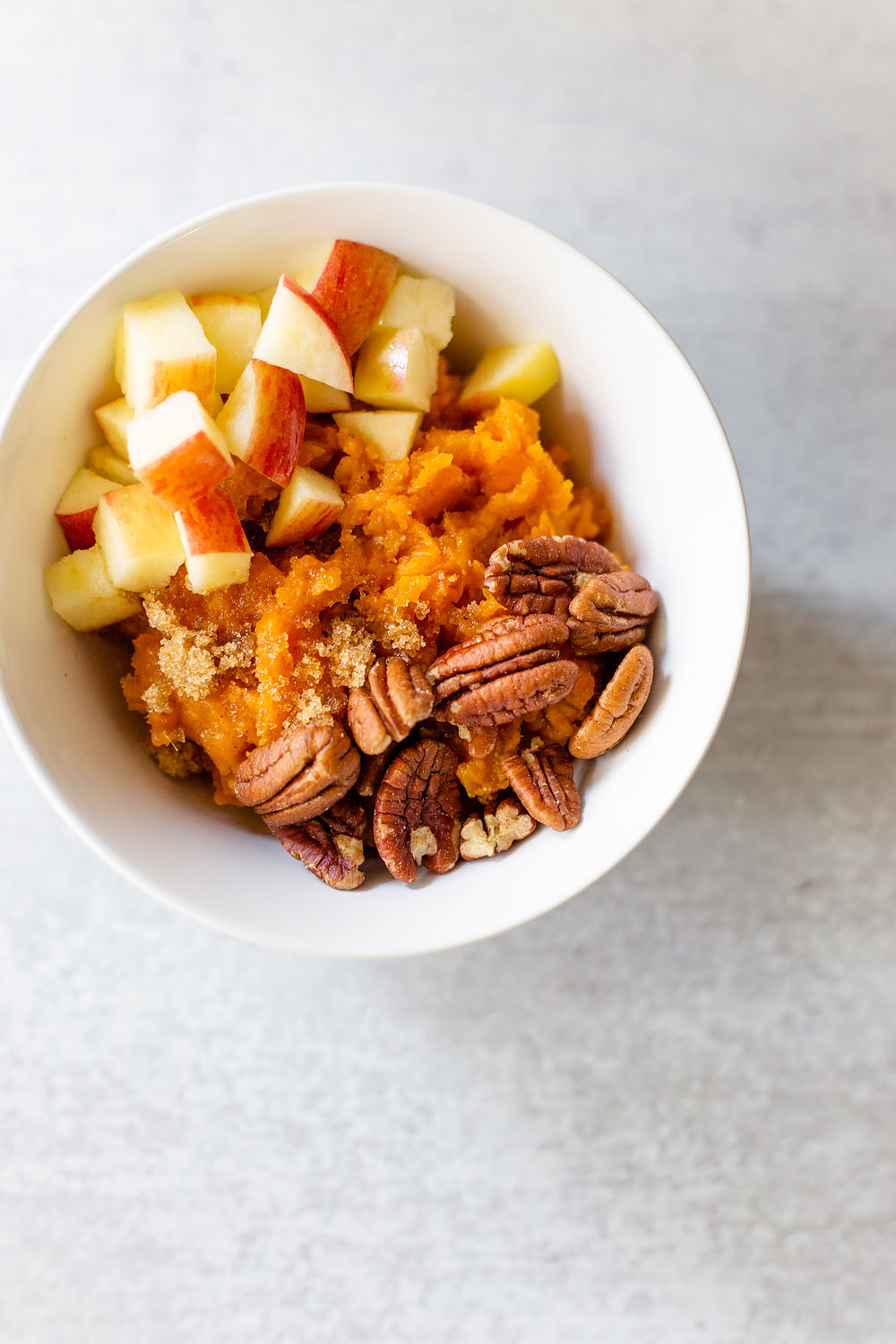 Ingredients:
Cooked sweet potatoes
Cinnamon
Butter
Salt
Brown Sugar
Apples
Pecans
How to make:

First, mash together the sweet potato, butter, salt and cinnamon.
Once that is done, top with brown sugar, apples, and pecans.
Dive in and enjoy!
Recipe #3: Roasted Brussel Sprouts
by Plant-Based School 
Ingredients:
1 pound Brussels Sprouts
1/2 tablespoon olive oil
1/4 teaspoon salt 
1/4 teaspoon black pepper
Mustard-maple syrup dressing 
1 1/2 tablespoons extra virgin olive oil 
1 1/2 tablespoon lemon juice
2 teaspoons maple syrup 
1 teaspoon mustard
1/2 teaspoon salt 
2 twists of black pepper
How to make: 
Preheat the oven to 400°F or 200°C. Line a baking sheet with parchment paper.
With a paring knife, trim the woody end of the stem (if any) and the outer leaves if they are not fresh. Rinse and pat dry with a kitchen cloth.
Cut the Brussels sprout in half lengthwise and add them to the baking sheet.

Season with olive oil, salt, and pepper, and toss with your hands to evenly spread the seasoning. They should fit on a single layer without overlapping to get tender and crisp.

Bake for about 30 minutes, depending on the size of your sprouts. They should be slightly charred and brown on the outside and tender but with a bite inside. Transfer to a serving platter and drizzle with the mustard-maple syrup dressing. Optionally, you can sprinkle with a pinch of red pepper flakes.
Recipe #4: Roasted Vegetable Winter Salad 
by Hungry Healthy Happy

Ingredients:
4 Handfuls of Watercress/Rocket (arugula) salad mix
1 tbsp Olive oil
2 tbsp Balsamic vinegar
2 tbsp Fresh basil finely chopped
2 tbsp Fresh coriander (cilantro) finely chopped
2 tbsp Fresh parsley finely chopped
1 pinch of Sea salt and black pepper
30 g Light Feta (or dairy-free equivalent)
Roasted Vegetables:
1 Red onion
1 Butternut Squash small
10 Baby potatoes
2 Carrot
2 Parsnips
1 tbsp Olive oil
1 pinch of Sea salt and black pepper
How to make: 
Chop all the vegetables so they are fairly chunky. Put them in a bowl with 1 tablespoon of olive oil and some salt and pepper and mix well.
Put onto a baking tray in a preheated oven at 200°C/400°F/Gas 6 for 35-40 minutes.
Make the salad dressing by mixing together the olive oil, balsamic, salt, pepper and herbs.
Remove the vegetables from the oven.
Divide the salad between 2 bowls and top with roasted vegetables. Drizzle the dressing on top and crumble over the feta.
Recipe #5: Butternut Squash Casserole
by The Cozy Apron


Ingredients: 

2 pounds butternut squash peeled and cubed into medium-sized chunks
2 Honeycrisp apples, peeled, cored and cubed into larger chunks (to match the squash)
Olive oil, Salt Black & pepper
2 tablespoons pure maples syrup, divided use
½ teaspoon ground, dried sage
1 ½ teaspoons Herbes de Provence
½ pound sweet Italian sausage, casings removed and crumbled
2 small fennel bulbs (stalks/fronds removed), cut in half lengthwise, cored, and thinly sliced
1 onion, quartered and thinly sliced
1 cup grated Gruyere cheese

How to make: 

Preheat your oven to 425°, and line a baking sheet with foil lightly misted with cooking spray.

Place your cubed butternut squash and apples into a large bowl, and drizzle in about 2 tablespoons of oil. Sprinkle over a generous couple of pinches of salt and black pepper, along with 1 tablespoon of the maple syrup, the dried sage and the Herbes de Provence; toss to coat.

Turn the mixture out onto your prepared baking sheet, and roast for about 35 minutes, stirring occasionally for even roasting, or until the squash is tender.

While the butternut squash and apples roast, place a large skillet (cast-iron is great) over medium-high heat, and add a small drizzle of olive oil; once the pan is very hot, add the crumbled sweet Italian sausage in and cook until browned and cooked through, a few minutes. Remove from the pan and keep in a bowl.

If additional oil is needed in the pan/skillet, add a small amount in; then, add the sliced fennel and onion into the pan and caramelize together for about 10-12 minutes, or until deeply golden and a bit jammy in texture. Remove from pan and add to the sausage.

Once the butternut squash and apples are tender and roasted, switch your oven setting to "broil".

To prepare the casserole, carefully spoon the roasted butternut squash/apples into a large bowl, and add the sausage/fennel/onion mixture to that. Pour in the remaining 1 tablespoon maple syrup and toss to combine (add a touch more salt and pepper to create a sweet-savoury flavour), then spoon into a medium size (roughly 9 by 13) baking dish.

If preparing fried sage leaves as a garnish, heat about ¼ cup of oil in a small saucepan or pot, and once shimmering, add the sage leaves and fry for about 20 seconds, then remove them and drain on paper towels. Sprinkle lightly with salt and set aside.

To finish the casserole, top with the grated Gruyere cheese and place into the oven under the broiler for a few minutes, until the cheese is melted and golden-brown. 3/3

Garnish the butternut squash casserole with either the fried sage leaves or fresh ones, and serve.